Why do you need SecureSend Email Encription?
The word encryption tends to evoke thoughts of high-tech spy movies. This makes the task of protecting your private information seem convoluted and out of reach. Here at Canary, we believe that email encryption should be as straightforward as possible. That's why we developed SecureSend.
Think of us as your "person behind the computer" that takes care of your tech needs so that you can confidently accomplish any mission life gives you. You never have to wonder if your email has been sent safely. Regardless of your preferred email service provider, operating systems, or data center, SecureSend is the strongest line of defense from data breaches.
This easy-to-use encryption service offers greater control over who has access to the content of your emails, private data, and sensitive documents. Protecting this information with encryption is a must-have for personal and professional use.
SecureSend is the go-to provider of secure email for healthcare providers as it is effortless and HIPAA compliant. Its hassle-free, user-friendly interface lets you spend less time worrying about email safety and more time doing the job you've trained hard to do.
In this article, we'll cover how this premier service offers higher levels of convenience and privacy by exploring:
Why Encryption is Important
What SecureSend & How It Works
Who Should Use SecureSend
How To Use SecureSend and
Frequently Asked Questions
Keep reading to learn how SecureSend keeps your confidential documents private and emails untraceable.
Why is Encryption Important?
Email providers already supply a layer of encryption called Transport Layer Security (TLS). However, the content is sent via email does not always remain secure when it reaches the recipient's server or when it goes through a cloud-based service.
Since all email correspondence is accessible from a provider's server, a little extra coding goes a long way to keeping third-party companies and even hackers from accessing private information. This is especially important for healthcare providers who are not just protecting their employee's identities, but also their clients' personal images, billing information, and health statuses. While HIPAA compliance is one of SecureSend's more specialized features, individuals and small businesses also benefit from our easy-to-use email encryption.
With SecureSend, your messages and documents can only be decrypted by the chosen recipient. This ensures that everything from your financial documents, travel plans, and anything else you chose to share stays away from prying eyes.
How Does SecureSend Email Encryption Work?
SecureSend is a user friendly email encryption system that falls under four categories:
Public Key Encryption
End-To-End Encryption
The primary function of SecureSend is to safeguard your emails and their attachments while they are "in transit" (aka being sent through servers or stored in a cloud). Its features also include the ability to schedule and expiry date and revoke/re-authorize access to recipients.
With SecureSend toggled on wherever you're using Canary Mail, all of the programming and key management has already been done for you, background of your email provider or mobile device. Learn how the following encryption tools help send safely every time.
What is PGP encryption?
Pretty Good Privacy (PGP) is a widely trusted and used email encryption technology. It is a cryptographic (aka computerized encoding and decoding) system that makes the content of an email only accessible to authorized users. PGP also protects the sender's information while it is going through the servers and while it is being stored in cloud-based systems.
You may have heard that PGP is difficult to use. This criticism comes from how unintuitive the process for creating and managing the keys required to access encrypted content. That's why we've programmed SecureSend to automate key management functions.
What is Public Key Encryption?
As their name implies, keys are the codes you need to access an encrypted message or document. Most PGPs operate using a system of public and private keys.
In short, one cannot function without the other. Kind of like an escape room where one puzzle must be solved using two separate clues. This can be frustrating and time-consuming for people who understand why cryptography is important, but not how it works.
The Canary Mail team has taken on this mysterious process for you. All you need to know is that any data sent or received with SecureSend is exactly that: secure. Not only is sending an encrypted message as easy as toggling SecureSend on, but also decrypting a message is as easy as clicking the link supplied.
What is Client-Side Email Encryption?
This means that your data is encrypted by your device before being transmitted through the internet. Client-side encryption also ensures the privacy of your documents and correspondences even when they are stored in "the cloud."
What is End-to-End Email Encryption?
In this type of encryption system, only the communicating users have access to the messages and documents being shared. This prevents data from being secretly modified or shared.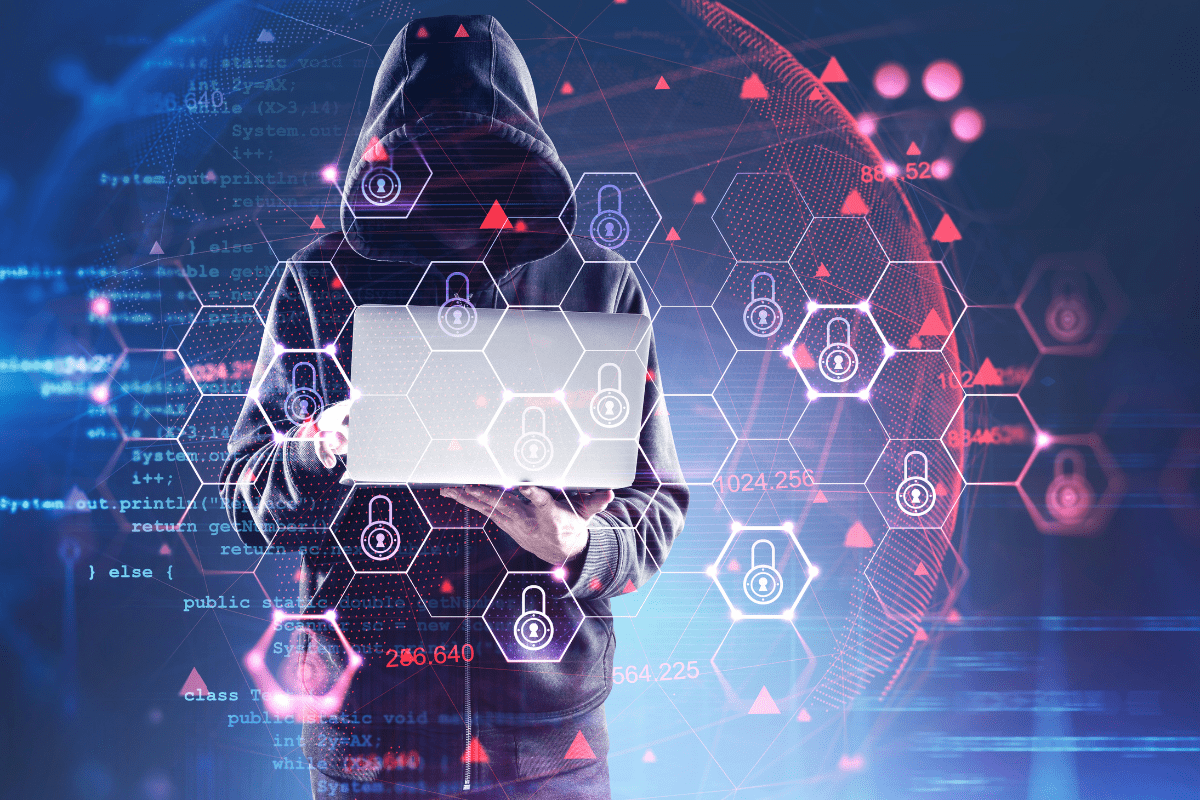 Who Should Protect Their Data Using SecureSend?
Healthcare & Medical Facilities
Wherever collection and analysis of personal data is a must, so is encryption. Security is key when handling patients' lab results, images, and payments. That's why our Canary Mail team has ensured that SecureSend is fully HIPAA compliant. Its simplicity also makes SecureSend easy to teach to employees. Plus, the data involved in these emails is safe on both sides of the exchange, making it easy to collaborate with patients and their multiple care providers.
Small Businesses & Freelancers
Whether you enjoy being a Mom & Pop store or are looking to grow, email encryption is the number one way to protect sensitive information. SecureSend ensures control over your financial statements and intellectual property.
Individuals
If privacy is a priority, invest in SecureSend for peace of mind. This feature gives you complete control over access to sensitive emails and their attachments.
Techy Tip: In addition to email security, installing a Virtual Private Network (VPN) is the best way to protect yourself while using the internet. VPNs provide an encrypted server and hide your IP address from corporations and would-be hackers looking to make a profit from your information.
With us, you never have to worry about who has access to your information ever again.
Download our
to learn more.
Email Encryption for Your Emails With PGP and SecureSend
With Canary, the steps to encrypting your emails are as simple as
enabling SecureSend then

toggling the feature on and off as desired.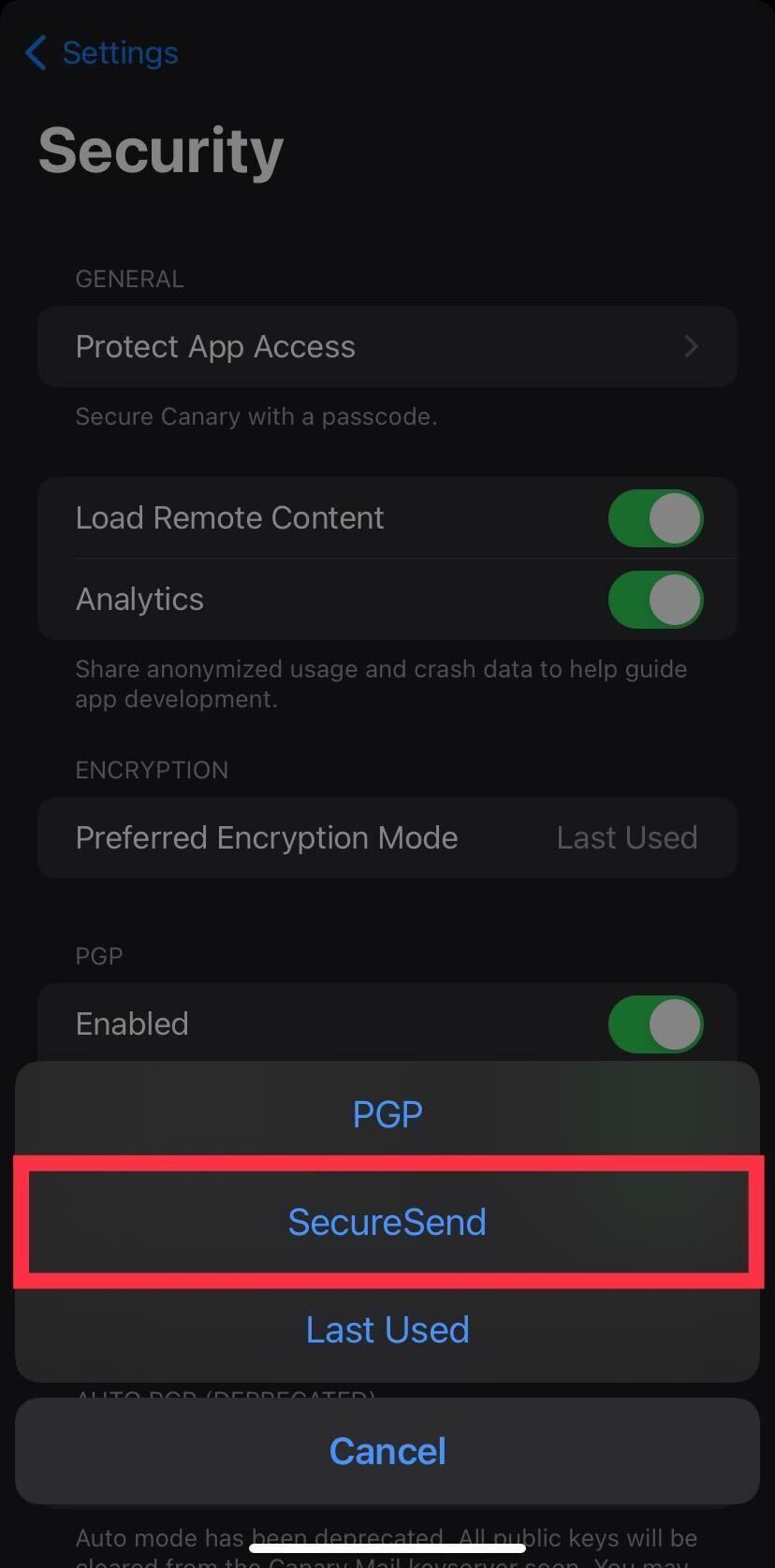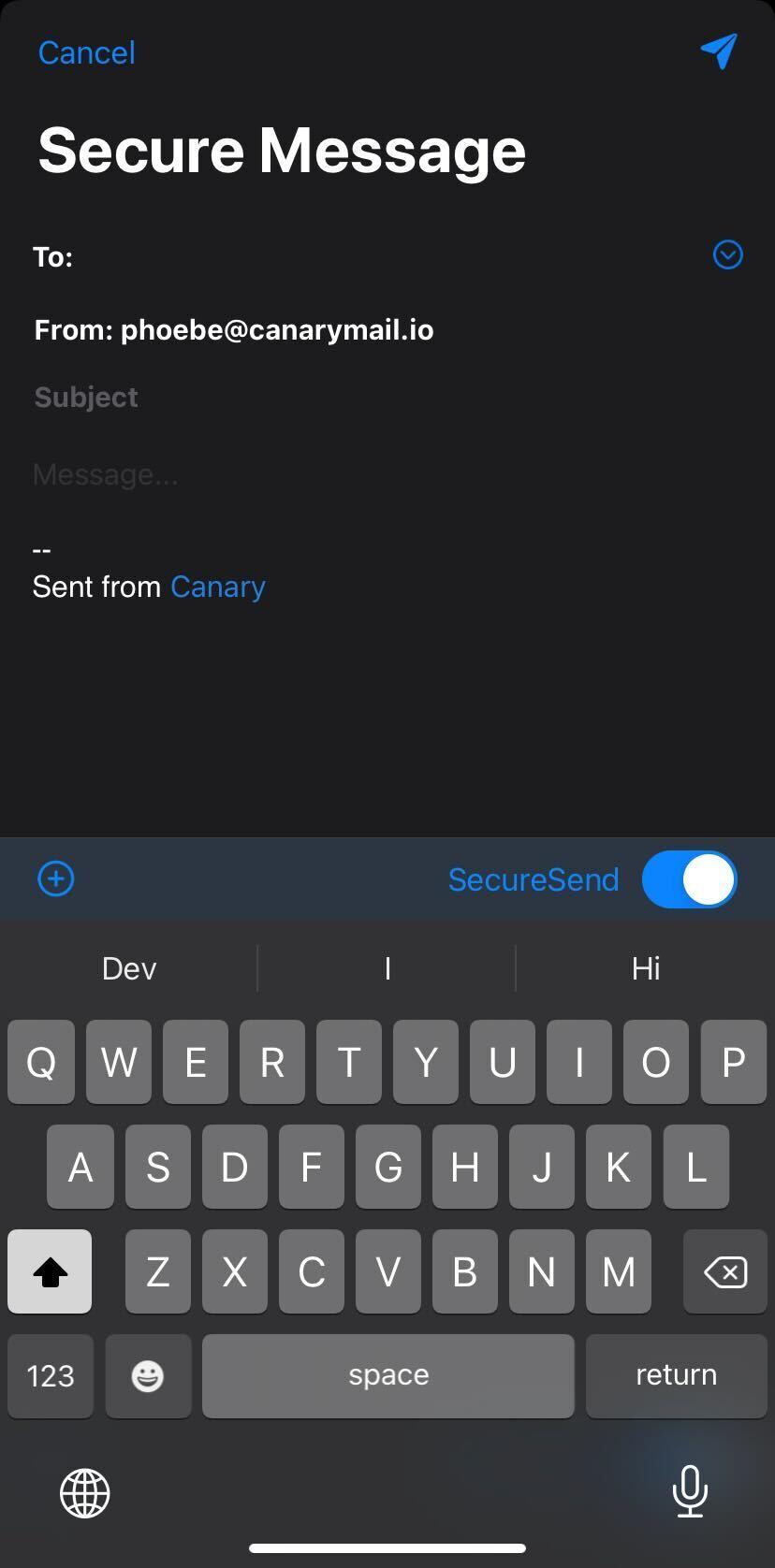 Scheduling Expiry Dates for Outgoing Emails
Open the email in which you want to set expiry > Click on the Settings icon of that particular email > tap on Expires and set the Desired Expiry Date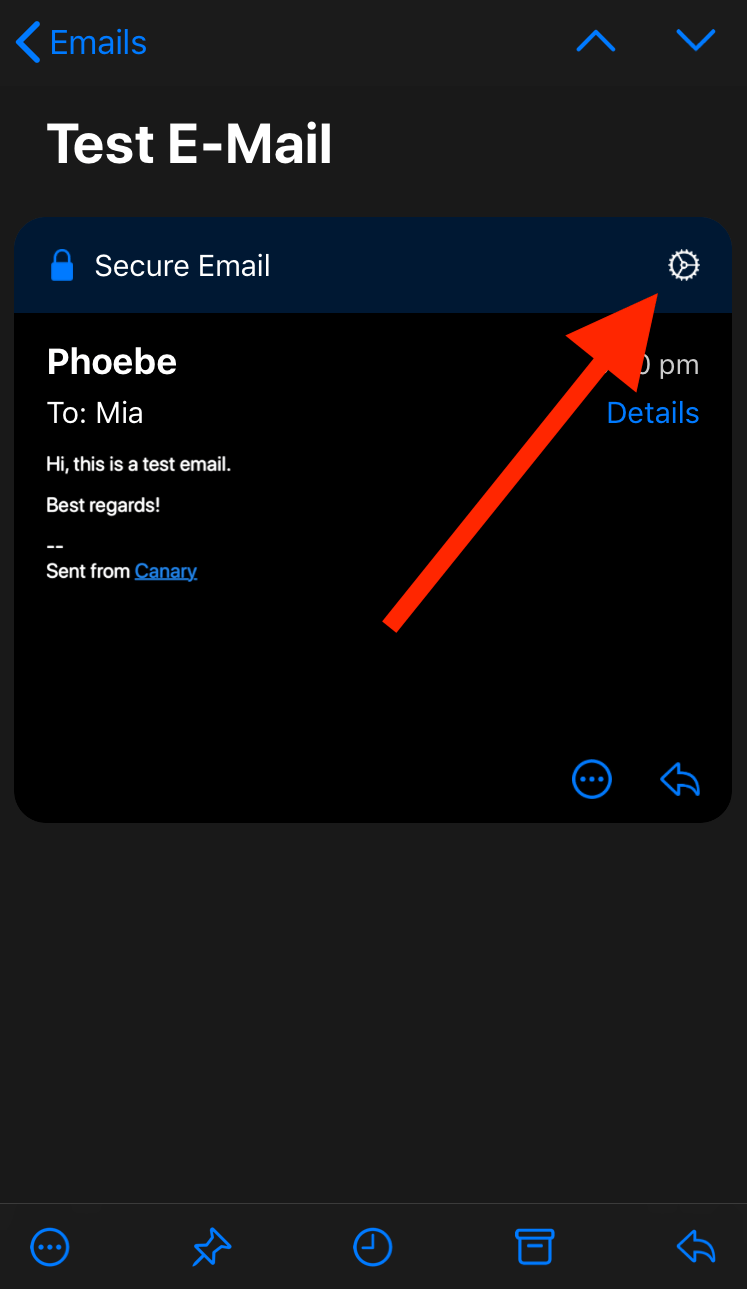 Changing Email Authorization:
Revoking An Already Sent Email

Open the email you want to revoke, then click on the Settings icon of that particular email & select Revoke.

When the recipient attempts to access the email after this status is changed, they will be notified that their access has been revoked.
Re-Authorizing A Revoked Email

Open the email you want to Re-authorize, then click on the Settings icon of that particular email & select Re-authorize.

The recipient will automatically be able to read the email again. To be certain they are aware of this, make sure to follow up with them.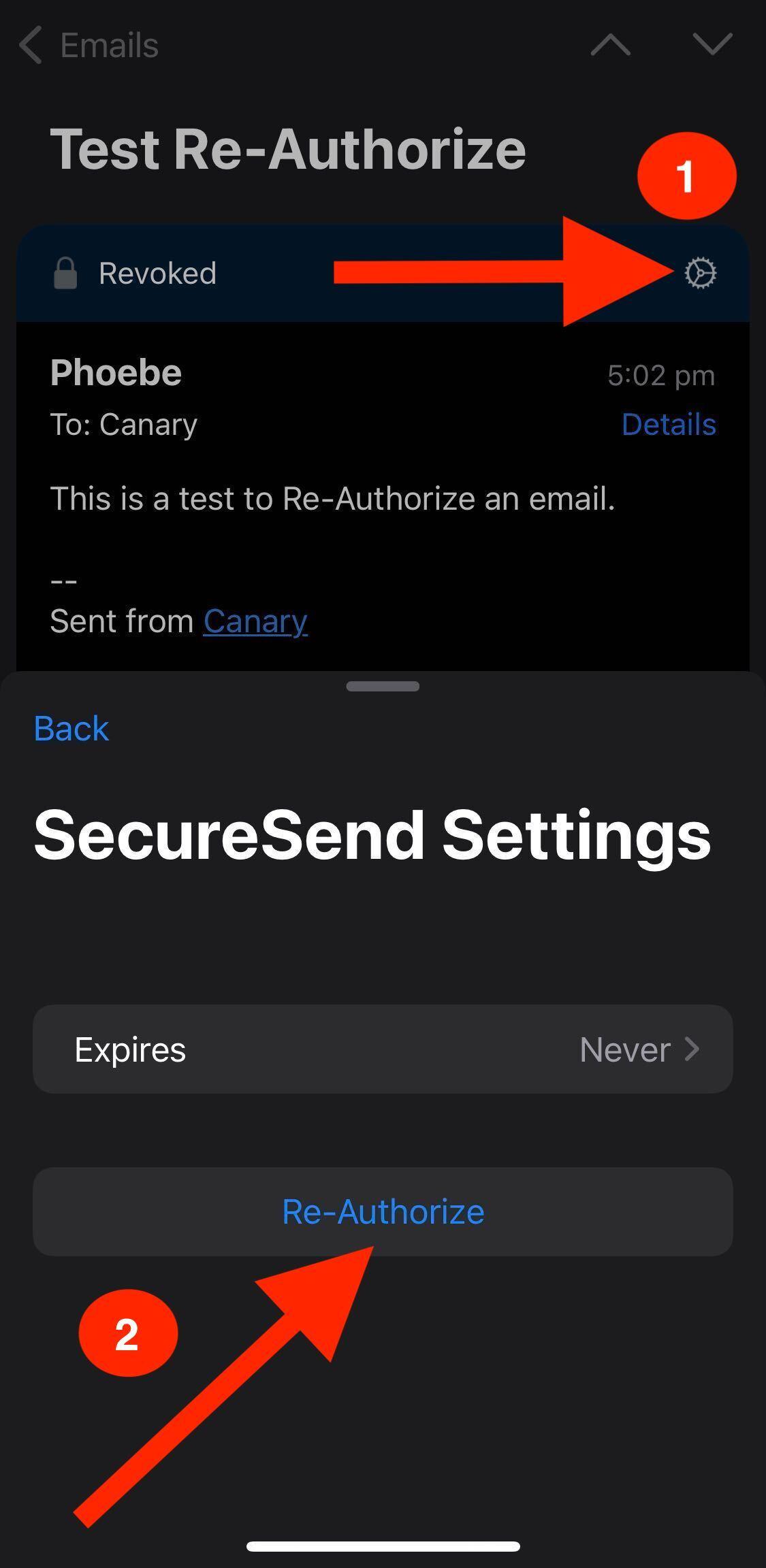 SecureSend FAQ's
Can anyone receive my SecureSend emails?
Yes! The recipient does not need Canary to open and access emails sent using SecureSend.
Will my recipient need to create a login or install new software?
No! An email sent through SecureSend will provide the recipient a link that allows them access to our Secure Reader, through which they can also reply directly. The only thing they need to do is establish their identity.
Is SecureSend HIPAA compliant?
Yes! SecureSend is HIPAA compliant. Check out this 2022 HIPAA Compliance Checklist to learn more.
Does SecureSend involve manual encryption key management?
No! Your recipient can easily access your encrypted email without an encryption key.
Why is Email Encryption with SecureSend better than other Pretty Good Privacy (PGP) services?
PGP can be time-consuming and unwieldy. First of all, to use PGP you need to make sure that the recipient is using PGP. Secondly, you are fully responsible for key management. Meaning, that you are in charge of exchanging the keys needed to access the content.
SecureSend eliminates both a) the need for your recipient to be using the same service and b) the hassle of exchanging keys.
Sign Up for Canary Mail with SecureSend Today
The whole Canary Mail team is dedicated to building the best email encryption services of 2022 and beyond. SecureSend's user-friendly interface will give you complete control of your data and documents in just a few clicks.
Let us take care of all your encryption programming needs so that you can focus on doing what you love
With us, you never have to worry about who has access to your information ever again.
Download our
to learn more.