Secure email for work & personal accounts.
Most email security tools only protect work mail accounts. But modern attacks often target personal accounts. With Canary you can finally protect both.

Learn how Canary supports organisations of all sizes: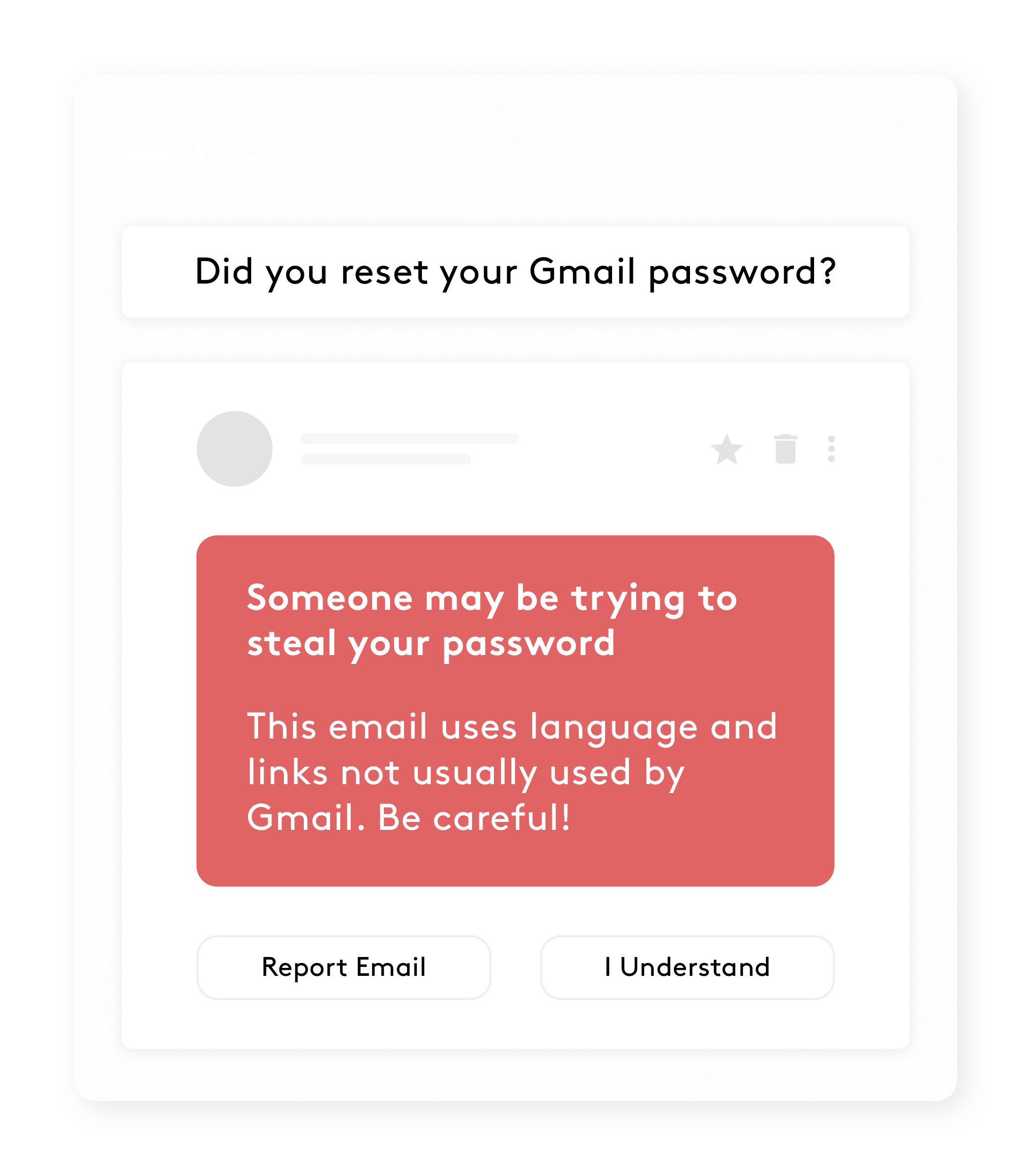 Backed by Sequoia. Trusted by 300,000+ users worldwide including at:
Cutting-Edge Security
When & where your team needs it.
Canary delivers email encryption, inbound protection, and human error prevention for all work & personal email accounts.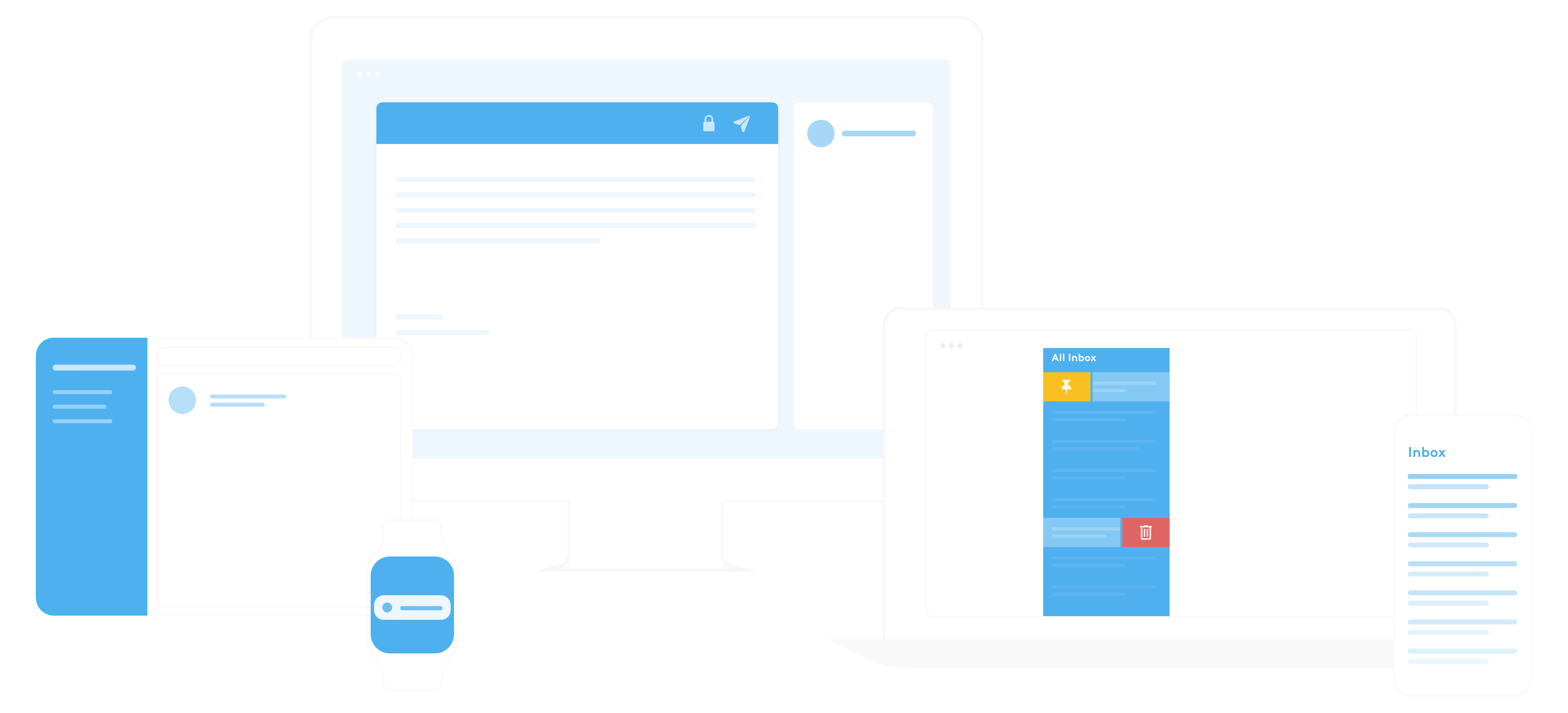 Email
Encryption
Easily secure sensitive content in emails & files, so that it remains safe even in case of a breach.
Inbound
Protection
Stop sophisticated social engineering & phishing attacks that slip through legacy email security tools.
Human Error
Prevention
Get a super smart wingman that catches & helps you avoid dumb mistakes before they happen.
Powerful Administration
For teams of any size.
Whether you're a startup, an SME, or an enterprise, Canary's simple, beautiful apps, and powerful cloud-based administration make it dead simple to setup & deploy for teams of any size. Reduce time spent on training & troubleshooting while increasing compliance with applicable regulation & security best practices.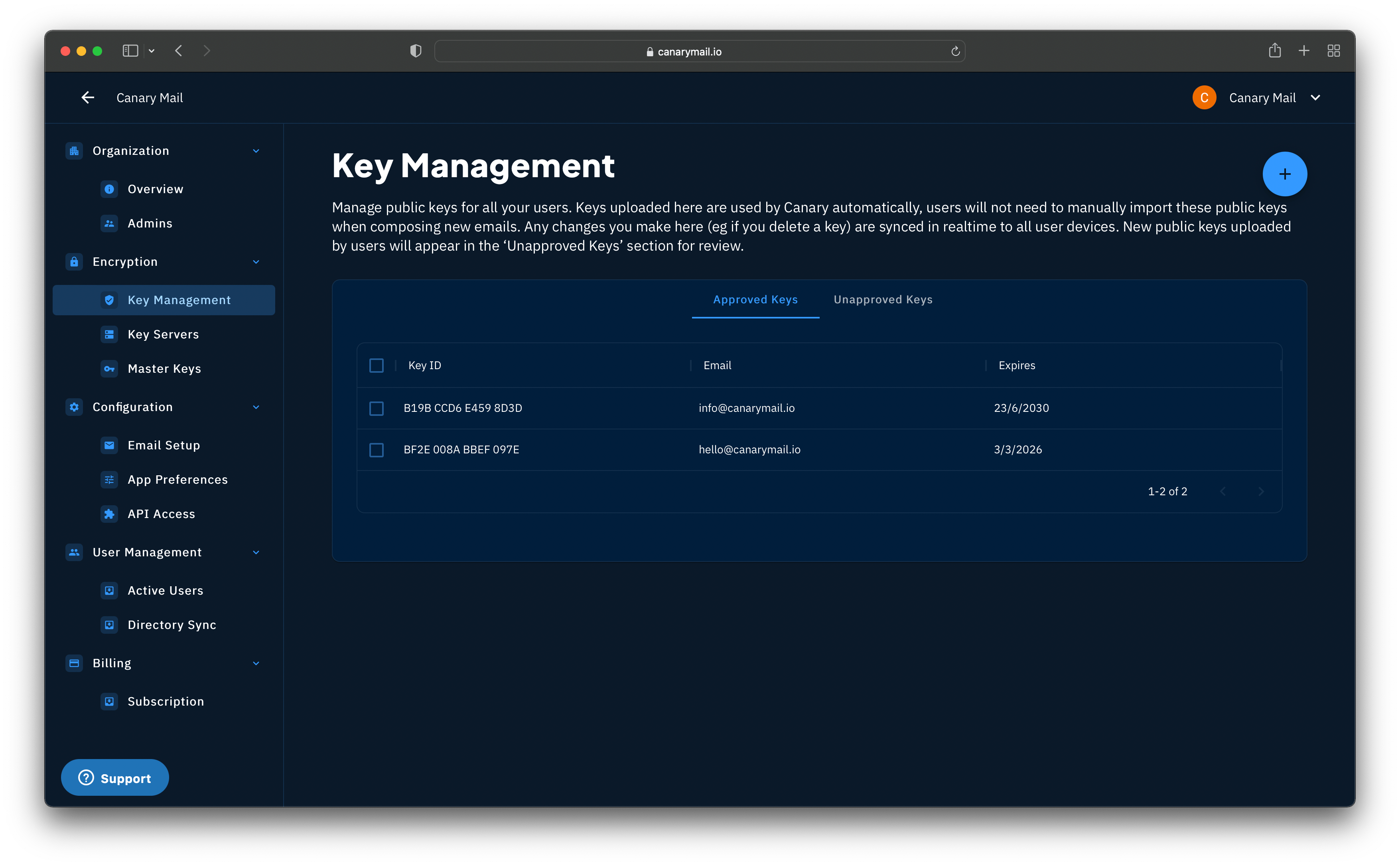 Settings & Configuration
Get control over in-app settings, encryption keys, email account access & much more.
User Management
Get SSO & Directory Sync via Okta, Google, Azure, Workday, etc. for effortless user provisioning.
Simple Licensing
Manage all licenses in one place. No need to purchase separate licenses per device, platform, or geography.
SecureSend
Email encryption that just works.
Send secure emails to anyone, whether or not they use PGP or have encryption keys setup. Enable your recipients to reply securely without creating new logins.
Send secure emails to anyone
Send secure emails to anyone, whether or not they use Canary or have encryption setup.
Revoke after sending
Revoke sent emails anytime after sending, to retain control of sensitive information.
Set expiration for emails
Set expiration dates for outgoing emails & files, so sensitive content does not remain indefinitely in other inboxes.
PGP Encryption
Easy to use PGP for your team.
Canary makes it easy for you and your team to leverage the power of PGP encryption by combining powerful admin features & a full set of beautiful desktop & mobile email clients that simplify key management.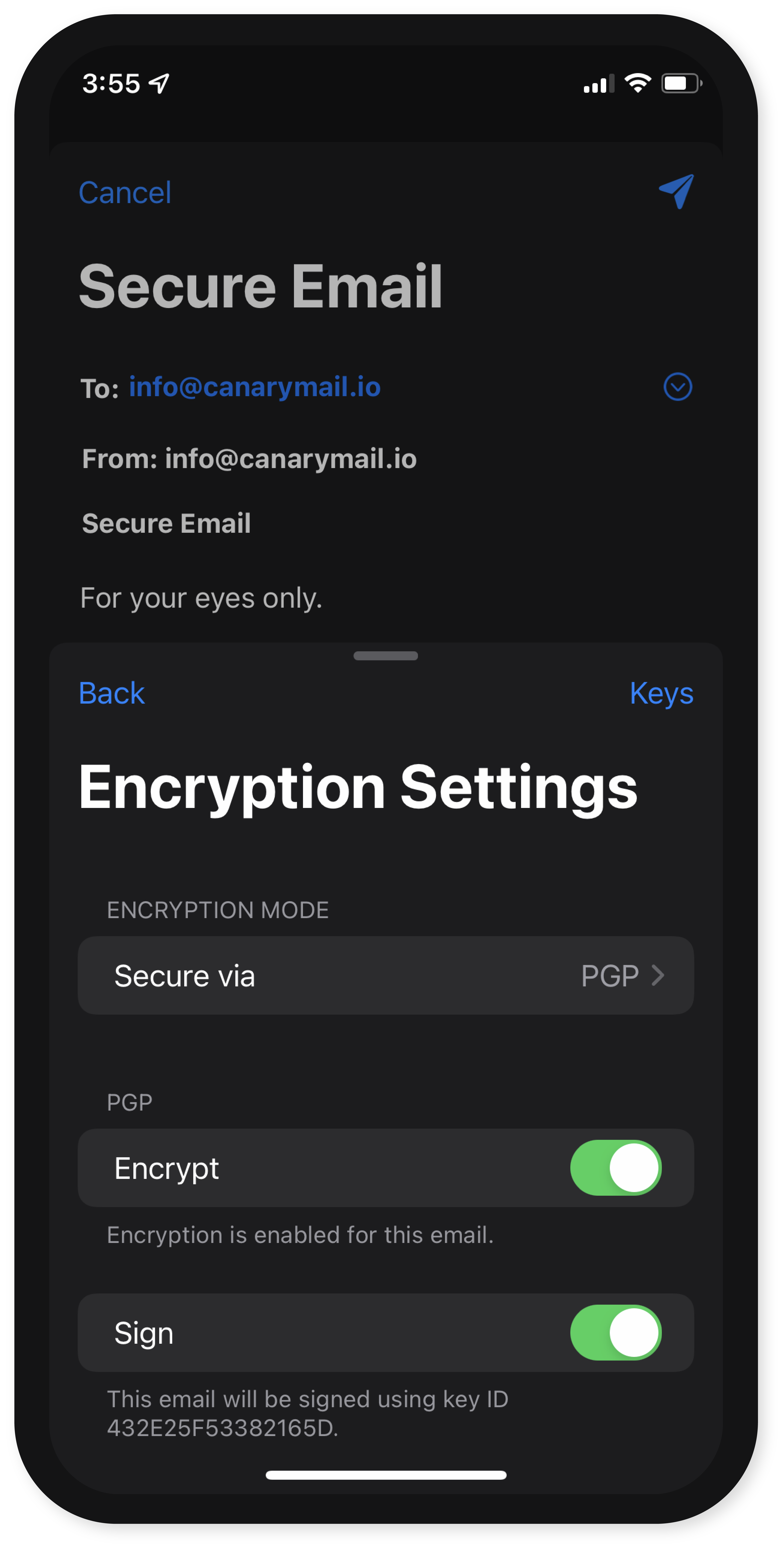 Administration
Manage keys, set custom keyservers & deploy organization keys.
Apps & Clients
Easy to use PGP for macOS, iOS, Android & Windows.
Automation
Automate public key exchange & deploy in-the-moment training for new users.
Regulatory Compliance
Eliminate non-compliance risk.
Leverage powerful security policies & DLP rules to ensure always-on protection that eliminates non-compliance risk due to human error.
HIPAA
The Health Insurance Portability and Accountability Act (HIPAA) sets the standard for sensitive patient data protection. Companies that deal with protected health information (PHI) must have physical, network, and process security measures in place and follow them to ensure HIPAA Compliance.
FERPA
The Family Educational Rights and Privacy Act (FERPA) is a US Federal law that protects the privacy of student education records. The law applies to all schools that receive funds under an applicable program of the U.S. Department of Education.
CJIS
CJIS compliance is an important compliance standard for law enforcement at the local, state, and federal levels, and is designed to ensure data security in law enforcement. The Criminal Justice Information Services Division is the largest division of the FBI (US).
NIST/CUI
NIST 800-171 compliance is a set of recommended requirements for protecting the confidentiality of controlled unclassified information (CUI). CUI is one of the core concepts of NIST compliance.
GDPR
The GDPR, or General Data Protection Regulation, is a European privacy law that went into effect in May 2018. It regulates how personal data of individuals in the EU can be collected, used, and processed.
CCPA
The California Consumer Privacy Act (CCPA) is a state-wide data privacy law that regulates how businesses all over the world are allowed to handle the personal information (PI) of California residents.
Email threats are no longer limited to work email accounts or devices. Deliver cutting-edge protection to your remote team, when and where they need it most, even to their personal email accounts.