Chances are if you've ever struggled with writer's block or wished you could come up with more variations of an ad, AI writing assistants could be a huge help. AI writing assistants are powered by generative AI, which means that they can generate new ideas and variations on an existing theme. And because AI writing assistants can work much faster than a human, they can help you save a lot of time in the writing process.
Jasper Ai and Copy Ai are two of the most popular AI writing assistants on the market. So, which one should you use? In this blog post, we'll compare Jasper vs Copy Ai, their features, subscription fees, and everything else you need to know to make a decision.
What is Jasper Ai
Jasper AI, formerly knowns as Jarvis, is a copywriting tool that can help you produce more content in less time. Co-founded by Dave Rogenmoser and John Philip Morgan on January 2021 in Austin, Texas, Jasper AI is changing the copywriting game.

Jasper uses artificial intelligence and machine learning to create a persuasive and alluring copy. Whether you need content for a blog post, landing page, social media campaign, or email marketing blast, Jasper AI can help you get the job done quickly and efficiently. Additionally, Jasper AI has recently launched its Jasper Art feature which will turn your text prompt into amazing art and realistic images.
Key Features
Starter: Improve your copy and accelerate new ideas 5x faster with over 50 proven templates.
Boss Mode: Long-form writing assistant on document editor. Write long content like blog posts, emails, reports, and stories.
Jasper Art: Turn your text prompt into art and realistic images.
Features
25+ Languages: Jasper can read and write in more than 25 languages.
50+ Templates: Ai copy generators to write short-form content like ad copies, social media captions, blog posts, short emails, etc.
Plagiarism checker
Google chrome extension
Surfer SEO integration
Auto-save
Project folders
Content search
Plans and Pricing
5-day Free Trial
Starter: For the hobbyist just getting started. Starts at $49/month (monthly subscription) or $40/month (annual subscription) with a 20k-word limit. The word limit increases with increasing subscription tier. The Starter package plan doesn't have access to the Boss mode and long-form document editor.
Boss mode: For bloggers and content marketers. Starts at $59/month (monthly subscription) or $49/month (annual subscription) with a 50k-word limit. The same with the Starter Plan, the Boss Mode Plan's word limit also increases with increasing subscription tier. The Boss Mode Plan provides a full experience to all of the Jasper features, except for Jasper Art.
Jasper Art: The Jasper Art feature costs $20/month per user with unlimited art generation.
Business plan: This tier requires you to contact the Jasper Team for a demo and customized plan and pricing.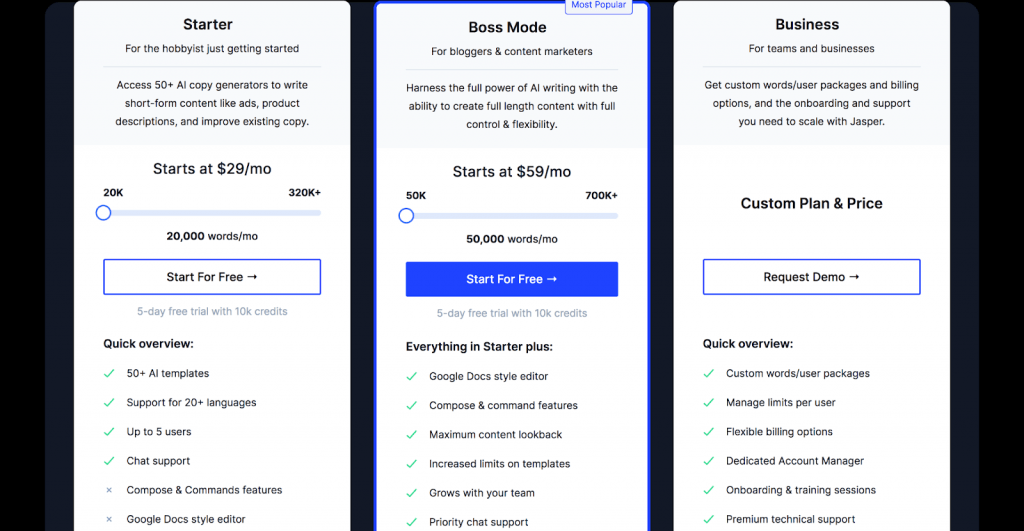 Image credit: https://www.jasper.ai/pricing
How does Jasper Ai work?
So, how does Jasper work? In short, it uses the power of artificial intelligence and machine learning to produce human-like text. Here's a more detailed breakdown:
To get started, simply choose a Jasper template (there are options for ads, blogs, eCommerce, email, etc.) Then, answer the prompts like your company/products name, what's your content about, keywords to include, tone of voice, and how many outputs you want Jasper to generate.
After that, just hit the "generate' button and Jasper will spit out outputs based on the number of outputs you set in a few seconds. Once you've generated some output, take a look at the options and choose the one that sounds best to you.
It's really that simple! With Jasper, you can say goodbye to those frustrating writer's block moments and hello to high-quality content in no time.
Pros
Google Chrome extension
Surfer SEO integration
Jasper Art upgrade will blow your mind
Simple interface
The Boss mode feature makes it easy to guide Jasper on how you want your article to flow.
An active community
Excellent customer support services
Cons
They removed the unlimited word subscription. Wasted output is a waste of money, too.
Technical stuff needs to be fact-checked.
What is Copy Ai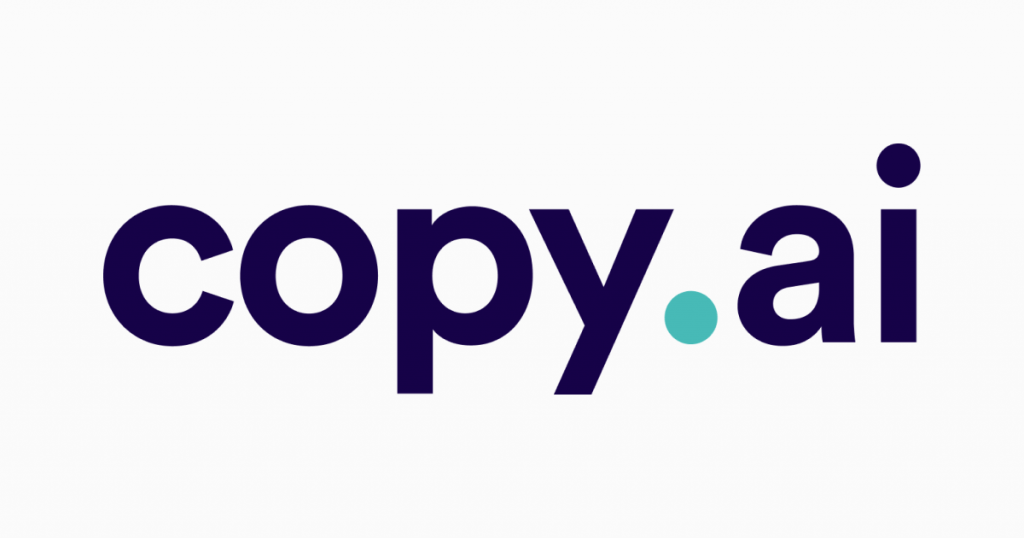 Copy Ai is another writing assistant software that uses artificial intelligence and machine learning to help you write blog posts, social media content, emails, and more. Founded in 2022 by Chris Lu and Paul Yacoubian, Copy has gained popularity among blog writers, social media managers, and email marketers.
Key Features
Blog Post Wizard: Write a blog post in just 5 minutes.
Freestyle: Command the AI to generate anything you need to be written.
Features
25+ Languages: Translate text to 25+ languages.
Over 90 tools and templates
Project folders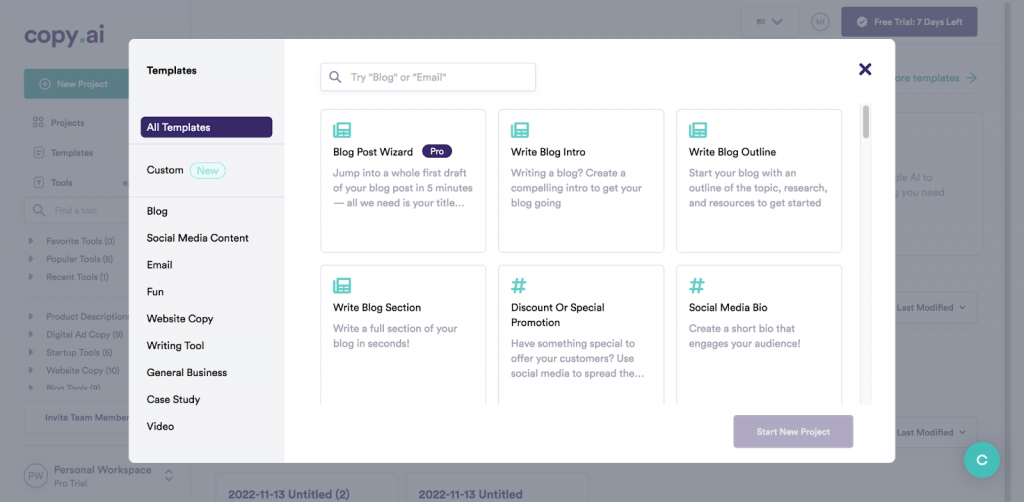 Plans and Pricing
Free Trial: No credit card needed! 2,000-word limit per month with access to 90+ copywriting tools, 7-day pro trial, unlimited project, and 1 user.
Pro: Starts at $49/month with a 40k-word limit per month and access to all features. Word limit increases with increasing Pro tier package.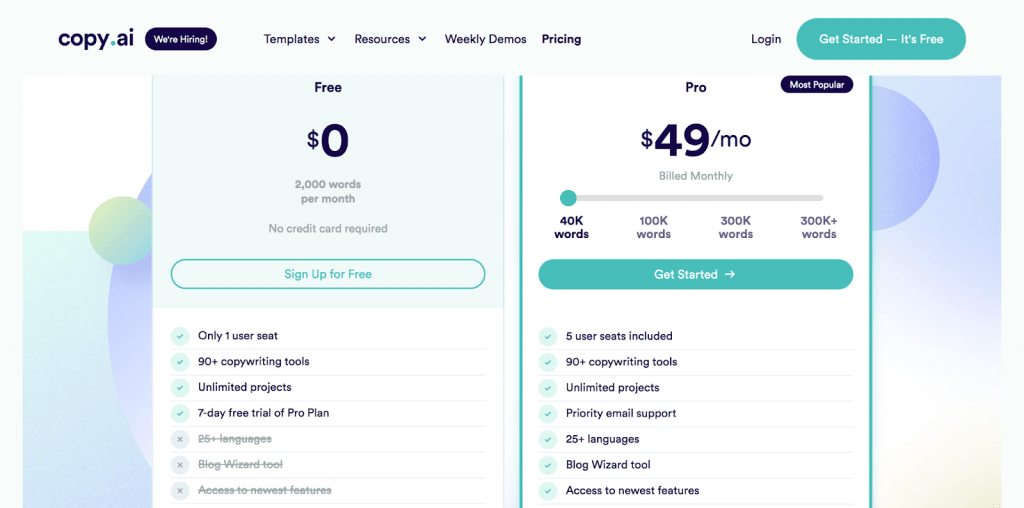 How does Copy Ai work?
Copy.ai takes the hassle out of content creation by using artificial intelligence to generate well-written, engaging texts.
Simply select a template, provide a bit of context about your brand and products, and choose among the outputs. Whether you're looking for an email, social post, or long-form blog post, Copy.ai can help you get the content you need in just a few minutes. And if you're not satisfied with the results, you can always edit and polish them before publishing.
Pros
A free trial is available, and no credit card is required.
Blog post wizard will let you write a blog post in more or less 5 minutes.
Comprehensive interface
Best for short content for social media.
Cons
Not too helpful for long-form content like blog posts.
No built-in plagiarism checker
Doesn't have a lower plan tier after the free trial. Jasper has a $29 plan.
Jasper vs Copy ai: Which one is right for you?
Choosing between Jasper AI and Copy AI can be difficult, but it ultimately depends on what you need the software for. If you're looking for help with shorter content pieces, Copy AI is a better option, while Jasper AI is better for longer-form content. Ultimately, both services offer a variety of features that can be helpful in improving your writing.
AI for email
You should take a look at Canary Mail's copilot – its brought generative AI to email – a world first! It leverages the power of GPT-3 to write your emails for you. You can literally reply to pitches and other email with a single tap! 
With us, you never have to worry about who has access to your information ever again.
Download our
to learn more.